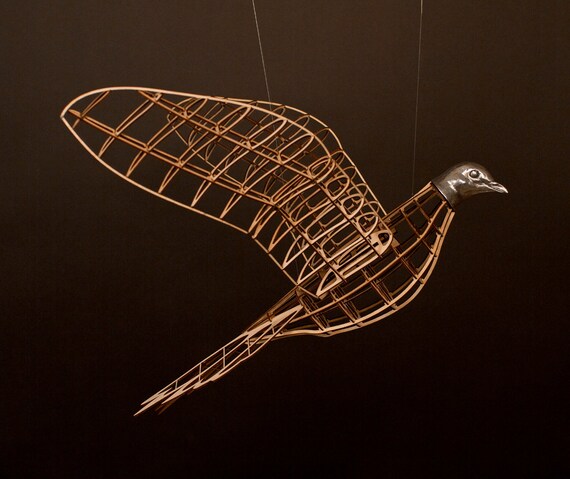 This listing is for a single Passenger Pigeon Sculpture from my Fleet installation. Each bird's size and proportions are based on those of Passenger Pigeons (now extinct). Each bird is 16" long with a 24" wingspan. They are built in the style of wooden WWI aircraft and reference balsa model airplanes. The bodies are made out of laser cut 1/16" Baltic Birch plywood and the heads are polished cast aluminum.
All the bodies are identical but there are nine different head types, three different tails, and three different wing sets with infinitely varying angles of the elbow. I can choose for you unless you specify a preference.

INSTALLATION:
Eyelets, monofilament, and clips are included for easy home installation.
These should not be displayed outdoors.
The wings will not be shipped attached to the body. Re-connecting them is very simple - it's just a friction-fit joint. Instructions are included.